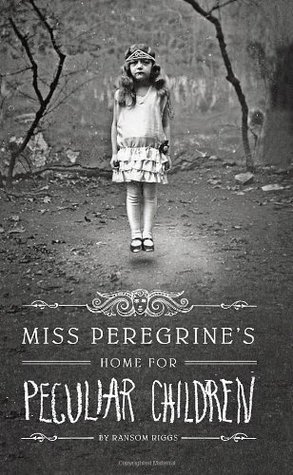 Pubilsher: Quirk
Release Date: June 7th, 2011
Format: Hardcover
ISBN:  9781594744761
Pages: 352
A mysterious island. An abandoned orphanage. A strange collection of curious photographs.

A horrific family tragedy sets sixteen-year-old Jacob journeying to a remote island off the coast of Wales, where he discovers the crumbling ruins of Miss Peregrine's Home for Peculiar Children. As Jacob explores its abandoned bedrooms and hallways, it becomes clear that the children were more than just peculiar. They may have been dangerous. They may have been quarantined on a deserted island for good reason. And somehow—impossible though it seems—they may still be alive.

A spine-tingling fantasy illustrated with haunting vintage photography, Miss Peregrine's Home for Peculiar Children will delight adults, teens, and anyone who relishes an adventure in the shadows.
I found out about this book through Instagram/booktube, and I almost didn't pick it up because of the hype surrounding this book, and because of how creepy it seems. I'm so glad I gave it a chance because I absolutely loved it. The worldbuilding was brilliant. I loved all the characters, especially Jacob, and the pictures made the story so much more intriguing. They're an integral part of the plot, and it does flesh out the story even more.
While I was reading this book I brought it to school and now at least 5 of my friends want to read it. So I think that's a good testament on how good it is just based on the summary. And I'll definitely be recommending it to everyone reading this right now! Seriously, you don't know what you're missing out on.
I love how there's an element of time-travel of sorts in the book. The peculiars can travel between the 2 different worlds (even they're advised against doing so) and so we get to see the modern world, as well as a WWII historical setting in Britain. The whole time loop thing and living the same day over and over again is so fascinating as well. I feel like there's still so much to learn about the peculiar's world, but maybe that'll happen in the next book.  The fantasy elements such as the peculiars having powers was interesting, although I'd like to learn more about how they originated. The way it was done was very different, which was really refreshing to read.
There isn't really a romance in this story, but the whole I-loved-your-grandpa-and-now-I-kinda-like-you thing doesn't really work in my mind. So no, I don't ship Jacob and Emma. Despite this, Emma is a great character – she's extremely stubborn, and can also hold her own. And she has awesome flame powers. The other peculiars each have a different power, and my favourite would be invisibility.
I think what tied the whole story together was all the pictures. Some of them are fascinating to examine, while others are just outright creepy (I skimmed over some of them). I could sometimes tell when a certain element of the plot would be based a certain picture, but I really loved the idea of the picture. It reminds me of Brian Selznick's works such as The Invention of Hugo Cabret where the story is told through pictures. Sure, I like imagining the characters in my mind, but I really do love the photos. And the glossy pages! The quality of the paper in my copy is extremely nice (that's totally irrelevant to the story but whatever).
Overall, I really loved this book. This series has so much potential, and I can't wait to see where it goes!
Rating: 4.5/5