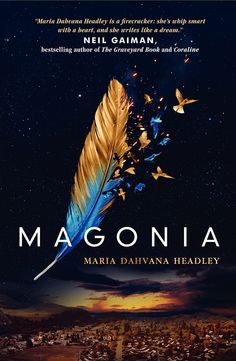 Publisher: HarperCollins
Release Date: April 28th, 2015
Format: Hardback
ISBN: 9780062320520
Pages: 320
Aza Ray is drowning in thin air.

Since she was a baby, Aza has suffered from a mysterious lung disease that makes it ever harder for her to breathe, to speak—to live.

So when Aza catches a glimpse of a ship in the sky, her family chalks it up to a cruel side effect of her medication. But Aza doesn't think this is a hallucination. She can hear someone on the ship calling her name.

Only her best friend, Jason, listens. Jason, who's always been there. Jason, for whom she might have more-than-friendly feelings. But before Aza can consider that thrilling idea, something goes terribly wrong. Aza is lost to our world—and found, by another. Magonia.

Above the clouds, in a land of trading ships, Aza is not the weak and dying thing she was. In Magonia, she can breathe for the first time. Better, she has immense power—and as she navigates her new life, she discovers that war is coming. Magonia and Earth are on the cusp of a reckoning. And in Aza's hands lies the fate of the whole of humanity—including the boy who loves her. Where do her loyalties lie?
Can we all take a minute to appreciate this cover? It's just gorgeous and I've taken so many pictures of this book it's not even funny anymore. #coverlove
Headley creates an original world that's vivid and extraordinary. There's allusions to mythological aspects and the complexity of the world Headley has introduced us to that broadens our imaginations as you read. It's the details that count – the author creates a world that is incredibly detailed, yet leaves part of it to our imagination.
The author has not only created an amazing world, but also characters who are intriguing and fun to read. Aza uses dark humour and sarcasm, which makes her sassy without really trying. Jason, her best friend is incredibly smart and talented, and he knows how to use his brain. He's always looking out for Aza, but I love how he doesn't follow her blindly. He knows exactly what he's getting into, and is also reliable and extremely sweet.
The plot was also a bit confusing at times. There were points where I had no idea what was going on, because the way it was executed very clear. However, I accepted that it may have been due to the fact we're reading from Aza's point of view, and she doesn't know what's going on.
Overall, I enjoyed this book, and I can't wait to see what Headley has in store for the next book!
Rating: 4.5/5