WARNING: This review may contain spoilers for the Magisterium series. If you haven't read the first book The Iron Trial yet, I suggest you read that first before reading this review.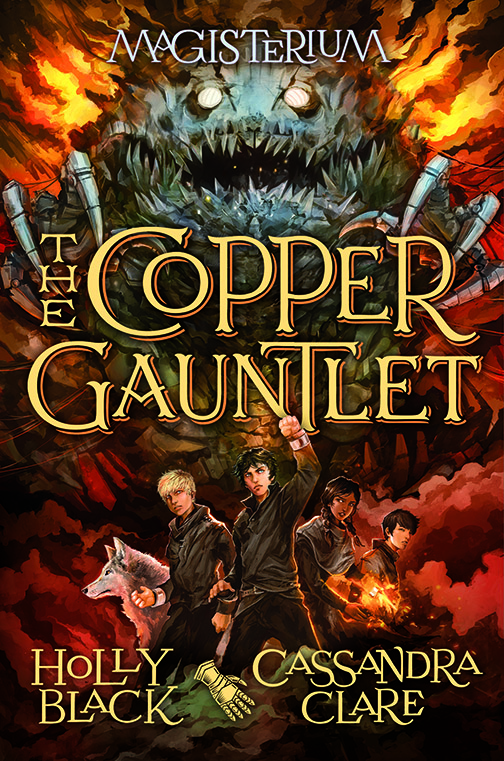 Publisher: Scholastic Press
Release Date: September 1st, 2015
Format: Paperback
ISBN:  9780545522281
Pages: 304
Goodreads || Book Depository
Callum Hunt's summer break isn't like other kids'. His closest companion is a Chaos-ridden wolf, Havoc. His father suspects him of being secretly evil. And, of course, most kids aren't heading back to the magical world of the Magisterium in the fall. It's not easy for Call . . . and it gets even harder after he checks out his basement and discovers that his dad might be trying to destroy both him and Havoc.

Call escapes to the Magisterium — but things only intensify there. The Alkahest — a copper gauntlet capable of separating certain magicians from their magic — has been stolen. And in their search to discover the culprit, Call and his friends Aaron and Tamara awaken the attention of some very dangerous foes — and get closer to an even more dangerous truth.

As the mysteries of the Magisterium deepen and widen, bestselling authors Holly Black and Cassandra Clare take readers on an extraordinary journey through one boy's conflict — and a whole world's fate.
I was fortunate to attend the Holly Black and Cassandra Clare book event over the weekend in Sydney, and they had The Copper Gauntlet for pre-release sale! Naturally, I had to buy a copy and get it signed, despite the fact my copies of The Iron Trial and The Copper Gauntlet now don't match. It's a little sad, but the urge to have the book in my ownership outweighed the need to have matching covers.

I absolutely adore this book! This book was so funny, and so easy to read, I managed to finish it in about two hours. This book was definitely better than first book in the Magisterium series, The Iron Trial. We see Call and the gang grow as both characters and as a group. However, Jaspar's character arc stood out to me the most.  As we progress through the book, he grows (and matures) as a person, and especially since Call and Jaspar are arch rivals, it's great to see them start to somewhat get along. There's also the start of a romance that didn't really make sense to me, because the main characters are only thirteen. Besides the romance, the element of friendship prevails throughout the book.
There were elements in this book that reminded me of Harry Potter, but that being said, the plot and the characters aren't remotely similar. The writing in this book is definitely much wittier than HP, and more reminiscent of the Percy Jackson books. There's plenty of humour in this book – Black and Clare both do a brilliant job of having the perfect combination of laughs and serious moments.
The authors also have some unique ideas and plot twists in this book that I definitely did not see coming. There are plot ideas that the authors use that stray from your typical middle-grade/YA books which are really refreshing to read and makes the story a little more unpredictable.   There are many moments where the authors lead you to think one thing, then as you read, you realise you've been mislead. I was actually surprised when I finished the story, because it was such a breeze and pleasant read.
Also, is it bad that I didn't realise that a gauntlet was a glove-like thing until the end?
I enjoyed this story immensely. Although this book is targeted towards younger age groups,I would definitely recommend this series to anyone and everyone, even those who don't love reading.
Rating: 4.5/5