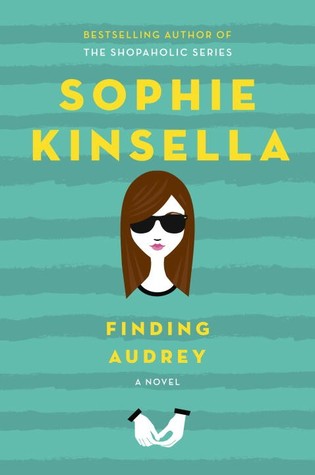 Publisher: Delacourte Books for Young Readers
Release Date: June 8th, 2015
Format: Paperback
ISBN: 9780553536515
Pages: 288
Goodreads || Book Depository
An anxiety disorder disrupts fourteen-year-old Audrey's daily life. She has been making slow but steady progress with Dr. Sarah, but when Audrey meets Linus, her brother's gaming teammate, she is energized. She connects with him. Audrey can talk through her fears with Linus in a way she's never been able to do with anyone before. As their friendship deepens and her recovery gains momentum, a sweet romantic connection develops, one that helps not just Audrey but also her entire family.
I only really picked up this book because I wanted to join the Booksplosion live show on youtube (which I didn't end up watching). The Goodreads summary didn't sound particularly appealing to me, but I'm so glad I did because it was such an enjoyable read.
I loved this so much! It was so funny and releatable, it was hard not to start chuckling every time there was a sassy remark, whether it was from Audrey or someone else. I found the balance between the serious discussions and the humour was perfect. Even when they were discussing serious topics like anxiety, there were still moments where I laughed so hard.
From the Goodreads summary, it sounds like Linus is the main factor in Audrey overcoming her anxiety, but it's not. He does play a large role, but ultimately ts down to the individual to overcome their fears. There wasn't much basis for their relationship. Linus is her brother's friend who comes over to play computer games, and somehow they start interacting a lot out of seemingly nowhere. It wasn't a very rushed, head first dive into  the relationship, which is a relief. Nevertheless, the romance was really cute, and quite enjoyable.
What about shoe contact?

'What?'

'Shoe contact!'
Audrey's "Social Anxiety Disorder, General Anxiety Disorder and Depressive episodes" is one of the main themes that is discussed throughout the book. Audrey wears dark sunglasses because of her lack of confidence due to anxiety, and the story is really just about Audrey overcoming these barriers and going out of her comfort zone. It's very inspiring. It also seemed to be well researched, and Dophie Kinsella has done a wonderful job at tackling such a huge topic, especially since mental illnesses is a huge issue in society today.
The relationship between Audrey and the rest of her family was a fairly accurate portrayal of a dysfunctional family. It was certainly entertaining to read about.  I especially loved Frank and the various ways he outwits his parents throughout the novel. Not only did it add drama, but it's something that is close to my heart (because I'm a rebel child) and is one of those examples where the humour balances everything out. Their mum is also a crazy helicopter parent who takes the Daily Mail a little too seriously. I thought some of the measures she was taking were a little over dramatic especially at the beginning,  but in the end her character is redeemed.
My favourite part(s) of the book was the documentaries that Audrey makes about her family, portrayed through the film transcripts throughout the book. It's a (somewhat biased) account of day to day drama in the (last name) household. It's also another example of tension relief that occurs throughout the book.
My Serene and Loving Family – Film Transcript
Sophie Kinsella had done a wonderful job at writing about the struggles of mental illness in highly respectable way. Ye at the same time, it's humourous and hilarious. It's a lighthearted read with serious topics discussed and I would highly recommend it to everyone.
Rating: 4/5