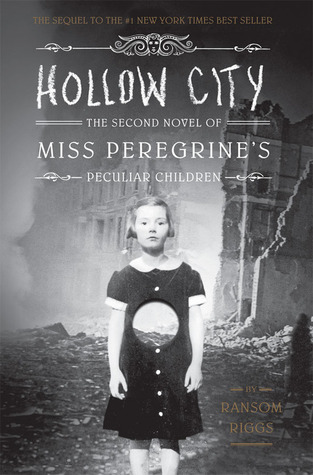 Hollow City is the second book in the Miss Peregrine's Home for Peculiar Children series, so if you haven't read the first book yet, I suggest you do that first before reading this because this will most likely contain spoilers for that. I also have a review of the first book here, so go check that out as well.
Publisher: Quirk Books
Release Date: January 14, 2014
Format: Paperback
ISBN: 9781594747359
Pages: 416
This sequel to the first novel, Miss Peregrine's Home for Peculiar Children, begins in 1940, immediately after the first book ended.

Having escaped Miss Peregrine's island by the skin of their teeth, Jacob and his new friends must journey to London, the peculiar capital of the world. Along the way, they encounter new allies, a menagerie of peculiar animals, and other unexpected surprises.

Complete with dozens of newly discovered vintage photographs.
---
I loved this book more than the first one! Hollow City picks up from where Miss Peregrine's left off, and I was not disappointed.
Hollow City has an immense amount of world building, especially with the children transcending through many different times throughout history via loops. The world building doesn't slow down the pace of the story at all. The writing in this book is so nice to read, and I think it gets better as the trilogy progresses. The world expands dramatically, and we're also introduced to a lot of new side characters who are equally as quirky and peculiar. I also like how the roles are distributed equally between the children, so that they all have a moment in the spotlight.
Speaking of characters, the children (who aren't really children) also get more page time, and we get to see them all develop individually and as a team, especially Emma and Jacob. Their romance wasn't the centre of the plot, which was great, but we get to see them both grow as characters. Although I thought their relationship in the first book was a little strange, I really enjoyed reading about it in the second book.
The plot twist towards the end is something I did not anticipate. I did notice the several hints that were dropped throughout the book, but I dismissed them and managed to make up some rational explanation for them in my head. Anyway, the plot overall was well written and executed, and there wasn't really a slow moment at any point in the book.
The writing in general was great – it flowed nicely and was clear and concise. There's a good balance between humour and serious moments that doesn't overstep boundaries.
This is definitely a solid sequel to Miss Peregrine's Home for Peculiar Children. I can't wait to see what Riggs has in store for the final book (especially since there was a massive cliffhanger)
Rating: ⋆⋆⋆⋆⋆