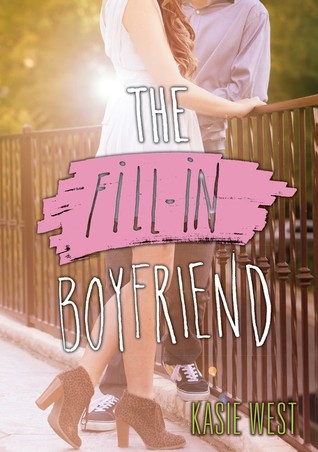 Publisher: HarperTeen
Release Date: May 5th, 2015
Format: Paperback
ISBN: 9780062336385
Pages: 352
When Gia Montgomery's boyfriend, Bradley, dumps her in the parking lot of her high school prom, she has to think fast. After all, she'd been telling her friends about him for months now. This was supposed to be the night she proved he existed. So when she sees a cute guy waiting to pick up his sister, she enlists his help. The task is simple: be her fill-in boyfriend—two hours, zero commitment, a few white lies. After that, she can win back the real Bradley.

The problem is that days after prom, it's not the real Bradley she's thinking about, but the stand-in. The one whose name she doesn't even know. But tracking him down doesn't mean they're done faking a relationship. Gia owes him a favor and his sister intends to see that he collects: his ex-girlfriend's graduation party—three hours, zero commitment, a few white lies.

Just when Gia begins to wonder if she could turn her fake boyfriend into a real one, Bradley comes waltzing back into her life, exposing her lie, and threatening to destroy her friendships and her new-found relationship.
---
I really enjoyed reading this! This is my first time reading a Kasie West novel, and I think she has done a great job in writing a heart-warming, relatable story that reflects our social-media dominant society well. It's cute, and it's also a short read, which is great if you're looking for something to get through quickly if you don't have that much time to read.
I should just mention that this review contains minor spoilers (mostly just character names) for the book. So if you have read The Fill-In Boyfriend, and you don't want to be spoiled, go read the book and  come back!
I thought the plot was very enjoyable, well planned, and satisfactorily executed. There were some moments that were quite predictable, but most of the time, I was constantly guessing what was going to happen next of which most I guessed incorrectly. It's full of tension, and has quite a few twists that I did not expect at all.
Firstly, the romance. The opening scene is basically what set's the story into motion. My first impression was "that's so unrealistic!". Things do clear up as the story progresses though.
"You're here dropping off your brother?"
"Sister."
"Perfect."
He raised his eyebrows.
"You get to be my date."
Overall, I thought the romance was really cute and adorable. I really love Hayden. He's a sweet guy. I like how both our main character, Gia and Hayden both have their own struggles to overcome and how they help each other out. There's also not much of a love triangle in this book. There's more than one guy, but it doesn't really feel like there's much going on romantically between Gia and the other guy.
As well as being a romance novel, it's also a tale of friendships and social circles in a typical American high school setting. There's quite a bit of drama between Gia and her best friends, throughout the books. There's about fifty pages where her girlfriends aren't mentioned at all, and I thought that it was a bit of a drought not reading about her troubles with her girlfriends (even though we were getting other great stuff that was going on in her life). Jules was someone who I just couldn't find any redeemable characteristics about, and I wished that Claire would stop trying to force Jules and Gia to be friends, because they clearly did not get along. I would've liked to see a firmer resolution in regards to her relationship with her friends, but aside from that, I thought that her troubles were realistic and relatable.
The one thing I really loved about this book were some of the themes portrayed throughout the book. There's loads of stuff about how we as individuals look to the statistical logistics on social media (e.g. how many likes we have on instagram, etc.) to prove our self-worth (I know it's a stereotype). This theme is portrayed mainly through Gia, who has a huge following on twitter, and is constantly on her phone. She's disconnected from reality, but as the story develops, her character changes and she discovers the value of being in the moment and not going into the sinkhole that is known as the internet. There's also cyber-bullying references, which are a valuable part to her character development.
Another theme is the value of telling truths and coming clean. This element of the story is a very important one, as it portrays how if you can't come clean, you just end up in this spiral of lies that will literally be impossible to untangle. I can see why Gia wouldn't want to tell the truth to her friends in the fear that she will lose them, but ultimately, the truth is what matters. It's an important message and valuable lesson that West is sending, and I'm glad she incorporated this into her story.
Gia's relationship with her parents is something I'm not sure that I find entirely realistic. Both her parents are very robotic in terms of emotion. There are times when I think Gia should've gotten into more trouble than she did from her parents. From what I can tell, her parents don't really seem to communicate to each other, and her Mum is clearly the one making most decisions. Also, I really didn't like Gia's brother because of his actions and his decisions throughout the book.
I also didn't really like the ending, because it felt unrealistic even though it was rather heart warming. I was expecting a bit more resolution with some plot lines, particularly Bec and Nate. I won't say any more than that because spoilers, but it's sufficient to say that I think it wasn't wrapped up as well as it could've been.
I think that this a great first read of one of Kasie West's books, and I'll definitely be checking out more of her work in the future! I would recommend this book to everyone, because there's something in here for all different types of people.
Rating: ★★★★