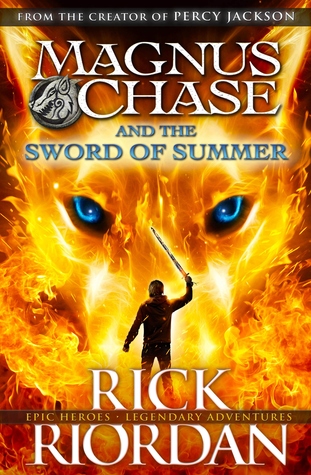 Publisher: Puffin Books
Release Date: October 6th, 2015
Format: Paperback
ISBN: 9780141342429
Pages: 528
Goodreads | Book Depository
Magnus Chase has always been a troubled kid. Since his mother's mysterious death, he's lived alone on the streets of Boston, surviving by his wits, keeping one step ahead of the police and the truant officers.

One day, he's tracked down by an uncle he's never met – a man his mother claimed was dangerous. His uncle tells him an impossible secret: Magnus is the son of a Norse god.

The Viking myths are true. The gods of Asgard are preparing for war. Trolls, giants and worse monsters are stirring for doomsday. To prevent Ragnarok, Magnus must search the Nine Worlds for a weapon that has been lost for thousands of years.

When an attack by fire giants forces him to choose between his own safety and the lives of hundreds of innocents, Magnus makes a fatal decision.

Sometimes, the only way to start a new life is to die . . .
This is the first book in what is going to be a trilogy. I absolutely adore anything written by Rick Riordan, so when I found out that Rick was writing another series, this time based on Norse mythology, I had to see what it was all about. I loved it! Maybe not as much as the Percy Jackson series, but it was close. I only knew a little bit about Norse Mythology prior to reading this and keeping up with the terminology was fine! So if you know nothing about Norse Mythology, and you want to learn more, this book is a great place to start.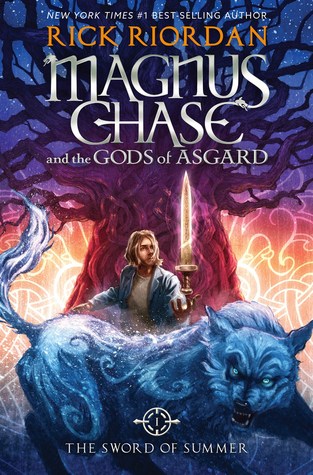 I'm just going to put it out there, but I honestly don't think the UK covers do the book justice. I mean, look at this US cover – it's much more pleasing to my eyes. But which do you prefer? Anyway, I'm digressing.
One thing about this book is the writing style is very easy to read. There's always some kind of humour or sarcasm embedded throughout the various chapters, even in the serious action scenes. Another thing is that the chapters are quite short, so it's quite easy to plough through, despite being a rather lengthy 500 page story.
The plot itself was entertaining. There were quite a few twists I was not expecting at all, especially towards the beginning, but were some parts I found were rather slow, mostly when they were explaining stuff, but apart from that, it was good. There was no love triangle of any kind, which pleased me, and also there wasn't really much romance either. After all, it is a middle-grade novel, so there's not really anything that's very dark or scary. Quite the opposite, in fact.
I really like how Rick makes many references to all kinds of things. He alludes to a few Percy Jackson things, a lot of pop and internet culture (like Taylor Swift's Blank Space, Mortal Kombat). I probably missed a few, but you definitely don't have to read Percy Jackson before this (although if you haven't read it, you really should because they're amazing). I got really excited with the chapter title for Chapter 48. Yes it's a Percy Jackson reference. Although it didn't really relate to anything in the chapter.
All the characters are sassy, some more so than others. My personal favourite character is Jack, just because he's rather unique. Pretty much every character ever has extremely sarcastic lines. Some of my personal favourites include:
"It's Magnus, it rhymes with swag-ness."
And also:
"Squirrel as in squirrel squirrel?"

"Squirrel squirrel," Mallory confirmed. "And I'm surrounded by moron morons."
There's more, but I don't want to spoil the entire book.
Overall, I loved it. It doesn't quite live up to Percy Jackson, but it's close. I would definitely recommend it if you're looking for something that is educational yet extremely easy to read and enjoyable.
Rating: ⋆⋆⋆⋆.5