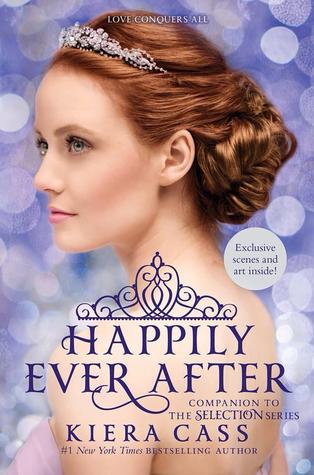 Publisher: HarperTeen
Release Date: October 13, 2015
Format: Paperback
ISBN: 9780062414090
Pages: 416
Goodreads | Book Depository | Booktopia
Happily Ever After is an anthology of novellas and miscellaneous scenes from The Selection series. If you haven't read the original trilogy yet (The Selection, The Elite and The One) then I suggest you go and read those first and come back.
This will be a spoiler free reflection of what I thought about these books about this book!
---
Overall, I loved this as a little companion to the whole series. There are short stories dealing with things that happen before, during and after the series.  There's also some artwork in this book that is beautiful, as well as an author's introduction to all the novellas, giving insight to a little context.
The Queen – 3.5/5
This focuses on Amberly's (Maxon's mother) selection, and I thought it was quite interesting to read from her perspective. We also get to see a different side of King Prince Clarkson, and insight to his family life before he became king.
The Prince – 3.5/5
This is a retelling of some scenes from The Selection from Maxon's point of view. There's content focusing on other events that occur before the Selection, but most of this novella focuses on two scenes in particular. It was interesting to read from Maxon's perspective and it was nice to see what was going on in his head.
The Guard – 3/5
The Guard takes place after the Halloween party in The Elite from Aspen's perspective. To be honest, while I enjoyed reading from his view, this novella makes me dislike his character a bit more than I did previously, just because of some of his opinions and the way he acts. Aside from that though, it was a good read.
The Favourite – 4/5
This is definitely my favourite! I love Marlee, and she's such a tough girl, despite everything she's been through. This takes place from sometime in the Elite to after the One, and I'm glad she got an ending she deserved.
Scenes from Celeste – 4/5
There are three scenes written from the perspective of Celeste – all three show the progressive character development she undergoes. Even though she's a bitch at the start, I really do think she was redeemed by the One, and these scenes just accentuate her character further.
The Maid – 4/5
This was a really sweet short story between Lucy and Aspen. It was just filled with cute, slightly angsty moments that were really adorable.
After The One – 3.5/5
I thought this was a really sweet scene to satisfy my craving to know what actually happened after the ending in The One. It was fluffy and really cute to read.
So that's some of my thoughts on this collection of novellas/short stories! What do you think?