Top Ten Tuesday is a weekly feature that is hosted by the wonderful The Broke and The Bookish. This week's feature is a thanksgiving freebie, and so even though we don't celebrate Thanksgiving here in Australia I thought I'd share the bookish things I'm grateful for anyway!
---
Deltora Quest Series by Emily Rodda
This is definitely one of the first series that really got me into fantasy. I started reading these when I was eight, and I loved these so much I just re-read them about fifty times. Emily Rodda books in general have a special place in my heart, but it's the Deltora Quest series I'm especially thankful for.
Harry Potter by J.K Rowling
Ah, Harry Potter. I remember picking Philosopher's Stone for the first time when I was nine, but I put it back down after several unsuccessful attempts to get into the series. I picked it back up a year or two later, and I loved it.
Hana's Suitcase by Karen Levine
This was a book that was read out by my school librarian back in Year 6, when we had 'library lessons'. I loved the school library, because it had quite an extensive range of books and I just loved reading in general. However, this book in particular is a reason why I love history so much, namely anything Holocaust/WWII related. It was an extremely emotional journey, and I even bought the book because that's just how much I loved it (this was before the days of impulsive book buying).
Percy Jackson and the Olympians by Rick Riordan
Percy Jackson is one of those series that I was very against reading at first for various reasons, but when I finally picked it up when I was thirteen, I was hooked. The writing was hilarious, the characters were relatable. I started reading this series two months before Son Of Neptune (the second book in the Heroes of Olympus series), and so I finished The Lost Hero, then proceeded to search for the next book in the series. It was through endlessly googling 'Son Of Neptune' that I discovered the community of FanFiction (where I proceeded to let fanfiction take over my life for the next two years).
I owe a lot to Percy Jackson – I got interested in history/mythology as a result, I started writing my own terrible stories as a result of fanfiction. Looking back now, I don't know why I was so against reading these books when my sister recommended me these.
The Hunger Games by Suzanne Collins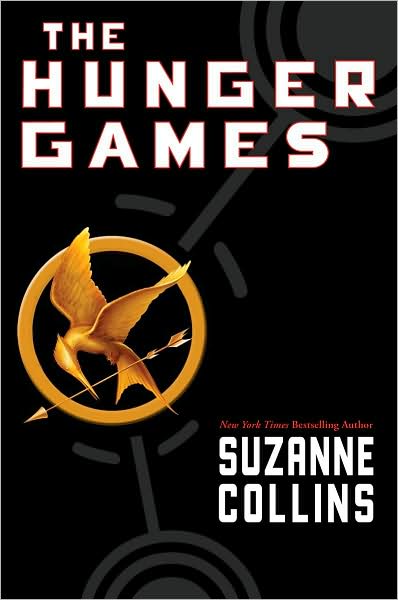 Hunger Games was a book I picked up because I wanted to read it before the movie came out. I'm thankful for this book because it was a book a brought with me on a family trip to China, and as a result of only bringing one book, I read it literally ten times in a row. I don't know how I didn't even get bored, but I guess that's a testament to how good I thought it was. I also learnt that I need to bring more than one book to a place with no wifi.
Hunger Games was also what got me into dystopia/sci-fi books because after reading Hunger Games, I got my hands on as many dystopia books as possible, such as Matched by Ally Condie, and Divergent by Veronica Roth just to name a few.
The Mortal Instrument Series by Cassandra Clare
Mortal Instruments was another series I was initially against reading, but then when I picked it up after relentless bugging from my friend, I seriously wondered why I didn't pick it up before. It's just one of those worlds which are so intricate and detailed, you can literally just live in it. It helps the fact that it's also an urban fantasy, so that you can just visit New York and hope that you find the New York Institute.
Fangirl by Rainbow Rowell
I spotted this book in a bookstore, and I was immediately drawn to this book because of it's title. I'm a massive Fangirl, and I'm so glad that someone chronicled the life of a fictional fangirl, because it is truly something we all need in this world.
Throne of Glass by Sarah J. Maas
Another fantasy series that I absolutely love. Even though it's only a recent discovery, it's a book I've been recommending to most of my friends, even those who aren't huge readers. I think that there's something in it for everyone, in addition to being a really well-written book.
Ebooks
I love physical books, don't get me wrong here. It's great to have a physical book you can turn the pages and smell, but ebooks have had a significant influence on me, as I can now read wherever I want without having to bring an extra physical book with me. I still do that, but there are some days when I'm travelling, and I don't want to have the extra burden of bringing another 500g of stuff. Also, reading on my phone makes it possible to read in bed without having to lift a book above your face to read it, and also to read in the dark.
Booktube/book blogging!
I started watching booktube videos sometime last year, and it definitely inspired me to ready more widely and not just read cliche, badly-written fanfictions. There's plenty of books I've discovered as a result of booktube and blogs, and now my TBR has grown exponentially.
---
So that's ten book/bookish things I'm grateful for! Most of these are fantasy books, yes, so I think that just sums up what kind of reader I am.
(Can I just say that the discovery of these books offers renewed perceptions and understanding of the world SOMEONE STOP ME FROM MAKING DISCOVERY JOKES)
Also, you may have noticed the lack of blog posts recently on this blog. It's just that I've been busy studying for exams, and haven't really had time to read anything and write anything substantial. Exams are over next week, so hopefully there will be more posts in December!
–Katrina