Top Ten Tuesday is a weekly bookish meme that is hosted by the Broke and the Bookish. This week's topic is  about my top ten authors that I've discovered this year!
So 2015 was an amazing reading year, and I daresay it's been the best one yet. There have been so many amazing books that have been published, and also many new authors that I've just discovered. Just keep in mind that these are only a select few of my many finds this year – there are so many more I wanted to add to this list!
---
Sarah J Maas
This has to be on the top of my list. Throne of Glass is an amazing series that I'm still questioning why I didn't discover earlier. I've been recommending it to literally all my friends, regardless of whether they like books because I can.
Kiera Cass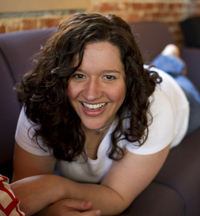 While The Selection series itself wasn't mindblowin, it was still a very enjoyable read that I thought had a great plot line and lots of frustrated hair pulling.
Sophie Kinsella
I read Finding Audrey and while it's not my favourite book ever, Sophie Kinsella's writing style is just so funny and humourous that it just makes you happy when you read her books. I seriously do recommend Finding Audrey to anyone who wants a light read, or to read if you're in a reading slump, because it's the perfect hangover book.
Sabaa Tahir
Brilliant debut novel. I'm really excited to see more of the Ember in the Ashes world next year when the sequel is released!
Kasie West
I've only read one of her books, but it is so well written. It's relatable, the characters are developed so well, and I have nothing to say but praise.
Mary E. Pearson
Kiss of Deception is another fantasy novel that I have discovered and loved this. The writing is what makes it stands out from other books I read, and I just love the plot in both books so far! I'm really excited for the final book of the trilogy next year.
Marie Rutkoski
The Winner's Curse is a book that is quite dark for YA, but I really did like how Rutkoski pushed the limits. The details and writing were all brilliant, and it just makes you feel all the feels.
Ruta Sepetys
A very recent discovery of mine. I read Between Shades of Gray and I love how well-written the book is. I also like how Sepetys write about lesser know events in history in her novels.
Ransom Riggs
I'm not usually a fan of creepy books, but Miss Peregrine's had the perfect mixture of fascinating and mysterious that I really enjoyed. I also love the creative use of vintage photos in his novels, which is a very unique idea that works.
Victoria Aveyard
Red Queen was also another debut novel that I thought was brilliant, especially in it's writing. The plot was well thought out, and the way that Aveyard writes is just captivating.
---
So there is ten authors that are new-to-me in 2015! Let me know what some of yours were in the comments below :)
–Katrina