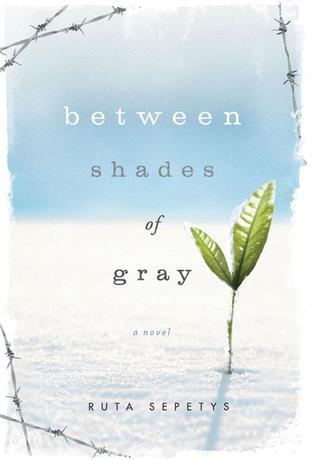 Publisher: Puffin books
Release Date: April 1st, 2011
Format: Paperback
ISBN: 9780857572301
Pages: 344
Goodreads | Book Depository
Lina is just like any other fifteen-year-old Lithuanian girl in 1941. She paints, she draws, she gets crushes on boys. Until one night when Soviet officers barge into her home, tearing her family from the comfortable life they've known. Separated from her father, forced onto a crowded and dirty train car, Lina, her mother, and her young brother slowly make their way north, crossing the Arctic Circle, to a work camp in the coldest reaches of Siberia. Here they are forced, under Stalin's orders, to dig for beets and fight for their lives under the cruelest of conditions.

Lina finds solace in her art, meticulously–and at great risk–documenting events by drawing, hoping these messages will make their way to her father's prison camp to let him know they are still alive. It is a long and harrowing journey, spanning years and covering 6,500 miles, but it is through incredible strength, love, and hope that Lina ultimately survives.Between Shades of Gray is a novel that will steal your breath and capture your heart.
---
Between Shades of Gray explores some lesser known parts of WWII history. I actually did learn about the kolkhoz and gulags that Stalin set up in the USSR during what is now know as his 'Reign of Terror', and I'm so glad that someone has written a book about the horrors that occured during that period. You can tell just from reading that this book is well-researched, as all the descriptions and historical details are accurate.
Anyway, while I appreciate the historical context the book explores, the plot and writing itself was brilliant. Sepetys' writing is quite simple, yet it is very effective in describing the horrors that occur to Lina and the rest of her family.
"Have you ever wondered what a human life is worth? That morning, my brother's was worth a pocket watch."
Nothing in this book sugarcoated, and so it is quite a grim story that really lets you appreciate how fortunate we really are. It places everything you thought was bad about the world we live in, like waking up to birds screeching every morning, into perspective.
Lina, our main character is brave despite the predicament she is in. I did find her to be quite whiny, and also slightly hypocritical at times. However, I appreciate that she is an artist, and that she utilises her art to share her experiences with the world, despite the risks and consequences. Although Lina was a strong character, both her mother and Lina's brother, Jonas were outstanding: they are both extremely selfless and are extremely willing to do anything to help others.
There is also a hint of romance that takes place. While it is heartwarming, and also lightens the mood, I found it a little unnecessary. It did help with character development, but it didn't really move the plot anywhere.
The book alternates between Lina in the present, serving in the slavery camps and Lina of the past, in her suburban family life. I really like how there are certain prompts that juxtapose the situation she is forced to face as it helps accentuate the cruelty of the world she lives in.
Overall, I thought it was a brilliant book with great writing addressing aspects of lesser-known history. I would definitely recommend it to anyone looking for historical fiction to read or if you're just looking for something that will break your heart.
Rating: ⋆⋆⋆⋆ .5