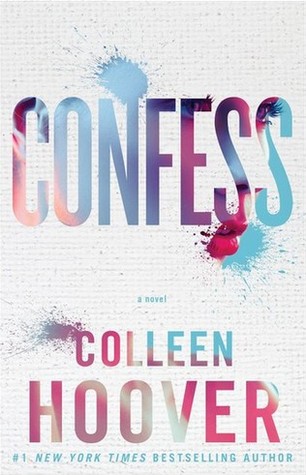 Publisher: Atria Press
Release Date: March 10, 2015
Format: Paperback
ISBN:  9781476791456
Pages: 306
Goodreads | Book Depository
Goodreads Summary:
Auburn Reed has her entire life mapped out. Her goals are in sight and there's no room for mistakes. But when she walks into a Dallas art studio in search of a job, she doesn't expect to find a deep attraction to the enigmatic artist who works there, Owen Gentry.

For once, Auburn takes a risk and puts her heart in control, only to discover Owen is keeping major secrets from coming out. The magnitude of his past threatens to destroy everything important to Auburn, and the only way to get her life back on track is to cut Owen out of it.

The last thing Owen wants is to lose Auburn, but he can't seem to convince her that truth is sometimes as subjective as art. All he would have to do to save their relationship is confess. But in this case, the confession could be much more destructive than the actual sin…
---
Thoughts:
I finally jumped onto the Colleen Hoover bandwagon, and I'm so glad I finally did! Confess was a great contemporary novel. I thought it would be slightly out of my comfort zone since it's classified as 'new adult', but honestly, besides the slightly more mature issues discussed in this book (depression, drug abuse, rape), it was fine.
(Also, this book was my first read of 2016! I'm just publishing this late)
I was first drawn to this book because of the colours of the cover, and I was also intrigued by the idea of confessions being one of the major themes of the book. I thought that Owen being inspired to make art by anonymous confessions was really interesting, and it works. His paintings are dotted throughout the book, and the abstract works are pretty much what I envisioned.
"They are the past and this is the present, and Auburn is… somehow both. She would be shocked if she knew how much of her past has affected my present, which is why I won't be sharing the truth with her. Some secrets should never turn into confessions."
The writing was also great! It had good plot and character development, and the pace wasn't too rushed. The writing keeps you in suspense – it's quite difficult to put the book down in between the pages, and once the story, I found it hard to put the book down at the end. The story itself was beautiful. The plot was unpredictable – when you thought it was going in one direction, it went on a completely different direction. It was incredibly heart-warming and also thought provoking and existential. One of my favourite quotes was:
In order to be embarrassed, a person has to care about the opinions of others first.
The more I think about it, the more it's true.
The characters were all so real, even all the antagonists. There's just something about all of these characters that make them all human. Whether it's admitting to mistakes, or doing what you think is best for other people, it's quite touching. There's the discussion of so many real-world issues, like I mentioned earlier, but it isn't the central focus of the book. It doesn't take anything away from the story, but it enhances it.
My one criticism about this book is that I thought the ending was a bit rushed. The story was building towards that moment, but when it did get to that particular moment, it was a little anti-climatic just because the amount of page-time dedicated to resolving that was short.
Overall though, I really did enjoy this and I'll definitely be reading more Colleen Hoover soon!
Rating: ★★★★