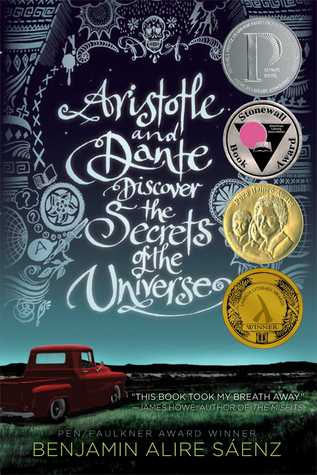 Publisher: Simon & Schuster
Release Date: 21 February, 2012
Format: Paperback
ISBN: 9781442408937
Pages: 359
Read in: January 2016
Goodreads | Book Depository
Goodreads summary:
Dante can swim. Ari can't. Dante is articulate and self-assured. Ari has a hard time with words and suffers from self-doubt. Dante gets lost in poetry and art. Ari gets lost in thoughts of his older brother who is in prison. Dante is fair skinned. Ari's features are much darker. It seems that a boy like Dante, with his open and unique perspective on life, would be the last person to break down the walls that Ari has built around himself.

But against all odds, when Ari and Dante meet, they develop a special bond that will teach them the most important truths of their lives, and help define the people they want to be. But there are big hurdles in their way, and only by believing in each other―and the power of their friendship―can Ari and Dante emerge stronger on the other side.
---
Initially, when I first started reading this, I was confused and I almost stopped reading this book because it was slow and not very engaging. However after the first 20 pages, something clicked and it became such a beautiful story! It's a coming of age story, complete with awkward relationships, and discovering who you are as a person. It also has LGBTQI+ themes, which I thought really added to the story.
I think the best part of the book was definitely the characters, especially Ari. I connected to him the best, and I could empathise with all his traits and thoughts – he likes to be alone, he bottles up all this thoughts, he's kind of anti-social and he has very few friendships. It's only when he meets Dante that he starts to come out of his shell a bit. Dante was also a very interesting character, because he's more outgoing than Ari, but just as introverted in a way. They are both quite philosophical, and there's definitely an element of philosophical discovery in this book. They're also wannabe bad boys, but they aren't really. Although they're both rebellious, I honestly think it's a side effect of growing up. It's okay to experiment because how else would you ever know you don't like something?
I also like how this isn't a romance novel. The main focus of the book is Ari and Dante's friendship (which is beautiful), and self-discovery. There's a little romance towards the end, but honestly that's it, unless you count their parents' relationships. Otherwise, there's only crushes, kisses but not love at first sight.
Even though this is a contemporary, it's set in the late 1980s, which is different. It's not explicitly stated until halfway through the book, but it is implied. I thought it was pretty cool how there's all these references to the old TVs, writing letters and also driving a manual Chevy. I can appreciate all of the retro technology, because I do remember some of those times.
The writing was also brilliant. All the chapters are quite short, and the book is divided into different sections, and that makes the book a quick read. I managed to read this in about two sittings, and I couldn't put it down! There's many quotable sentences that are too true such as:
Words were different when they lived inside of you.
And also:
What ever happened to reading a book because you liked it?
I love these, especially the second one, because I'm a firm believer in reading because you enjoy it, not psychoanalysing literature for the sake of writing essays.
Overall, I absolutely loved this story! It's a beautifully written coming of age story that is so true and extremely relateable. The book deserves all the awards its won, and possibly more. I definitely would recommend it to everyone and anyone to read.
Rating: ★★★★.5