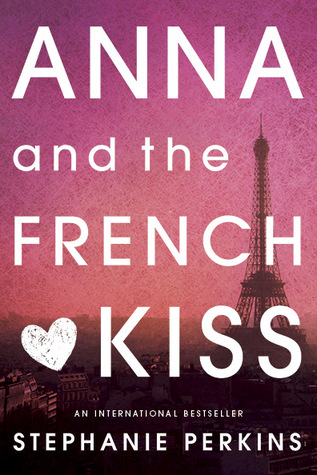 Publisher: Speak
Release Date: August 4, 2011
Format: Paperback
ISBN: 9780142419403
Pages: 372
Read in: January 2016
Goodreads | Book Depository
Goodreads Summary
Can Anna find love in the City of Light?

Anna is happy in Atlanta. She has a loyal best friend and a crush on her coworker at the movie theater, who is just starting to return her affection. So she's less than thrilled when her father decides to send her to a boarding school in Paris for her senior year.

But despite not speaking a word of French, Anna meets some cool new people, including the handsome Étienne St. Clair, who quickly becomes her best friend. Unfortunately, he's taken —and Anna might be, too. Will a year of romantic near misses end with the French kiss she's waiting for?
---
I'm so late to the Stephanie Perkins train! The book was fantastic. It had a great combination of romance, humour and just general feels that makes you want to go 'aww!' (or scream in frustration depending on the scene).
I really like how it takes place in the City of Love, as we get to see all the cultural references you wouldn't normally see in a contemporary set in an American city. Of course, there are plenty of American and English references, as the characters all go to an American school in France, but asides from that, there's so much culture to be absorbed.
Although it's pretty much insta-love, I did enjoy how cute the story was, and how many difficulties Anna and St. Clair had to overcome. There's so many complications so they can't be together, and all the character development really comes through as they try to solve all their problems. St. Clair was actually annoying to read about at first, but then he got less annoying later on.
The other characters were all well-written too. They're all given a good amount of page time, even Anna's friends in Atlanta. I never really liked Bridget, just because she seemed kinda bitchy at the start, but hey, that's my thoughts anyway.
Honestly, there isn't really much I can say to fault this book. It was well-written, and well-paced and certainly instigated a lot of feels. I would definitely recommend this to anyone looking for a cute contemporary to read!
Rating: ★★★★.5
---