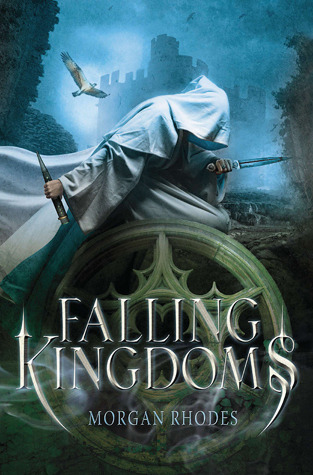 Publisher: Razorbill
Release Date: December 11th, 2012
Format: Hardback
ISBN: 9781595145840
Pages: 412
Read in: January 2016
Goodreads | Book Depository
Goodreads summary:
In the three kingdoms of Mytica, magic has long been forgotten. And while hard-won peace has reigned for centuries, a deadly unrest now simmers below the surface.

As the rulers of each kingdom grapple for power, the lives of their subjects are brutally transformed… and four key players, royals and rebels alike, find their fates forever intertwined. Cleo, Jonas, Lucia, and Magnus are caught in a dizzying world of treacherous betrayals, shocking murders, secret alliances, and even unforeseen love.

The only outcome that's certain is that kingdoms will fall. Who will emerge triumphant when all they know has collapsed?

It's the eve of war…. Choose your side.

Princess: Raised in pampered luxury, Cleo must now embark on a rough and treacherous journey into enemy territory in search of magic long thought extinct.

Rebel: Jonas, enraged at injustice, lashes out against the forces of oppression that have kept his country cruelly impoverished. To his shock, he finds himself the leader of a people's revolution centuries in the making.

Sorceress: Lucia, adopted at birth into the royal family, discovers the truth about her past—and the supernatural legacy she is destined to wield.

Heir: Bred for aggression and trained to conquer, firstborn son Magnus begins to realize that the heart can be more lethal than the sword….
---
Firstly, I think the title 'Falling Kingdoms' is an extremely accurate depiction of what happens in the book. It's a squabble for power over the various kingdoms in Mytica and they're all trying to assert their dominance over one another. It's basically like Europe back in the days of conquering land and capturing colonies in a way, but I'm getting off track.
It was confusing at the beginning because there were so many characters introduced in a short space of time. The character list at the beginning of the book is a handy guide, but it is annoying to flip back and forth between the pages. The same goes for the geography of the Kingdoms. If it wasn't for the map, I think I would've literally gotten lost, because the world is already so huge and complex from book one. As you read on though, it does get better, and I managed to eventually figure out who was from where.
The book mainly follows three main story arcs that all eventually blend into one. Told from the perspective from Cleo, Jonas and Magnus, we get to see what is happening in all of their lives, and their interactions with others. There is also a few chapters from the perspective of the Watchers. They don't really play a prevalent role in the book, but I'm definitely interested in learning about them. The whole plot is kind of like a mystery thriller but set in a fantasy world. You don't know what's coming, and it keeps you reading because you just have to find out what happens next. There were a few moments that I thought it would go in one direction, but it ended up going elsewhere.
There wasn't really a clear distinction of who were the protagonists and antagonists from the start. Each one of these characters are from a different kingdom, with their own background, agendas and motivating factors. You can't tell what's going to happen in the next 400 pages, just because there hasn't been revealed. It's also difficult to tell what the different motives of all the rulers are – you can't tell who has good intentions and who doesn't.
Out of the three main characters, I thought Magnus was the most fascinating, not because he also shares the name of a particular warlock, but because he has an interesting backstory and also because he has conflicting motives.
Then his heart, now broken into a thousand pieces, slowly began to turn to ice.
His desire to protect his sister, Lucia and also his need to please his father, King Gaius, creates a battle within himself that he must overcome. I don't know how successful he was at that, but I guess we'll find out in the second book.
Cleo is a stubborn, sweet yet slightly naive girl, especially at the beginning. Although she doesn't have much of a presence in the opening scenes, especially in the shadow of Aron, her fierceness does come through as the story progresses, and it is something that I admire. Her devotion and love for her sister is undeniable, and I think that's one of the qualities that makes her so interesting. Although she can be reckless running off without telling anybody, she does have a lot of depth, and I've come to like her as a character.
Jonas is an interesting character as well because we see the events that instigate his actions. He's portrayed as a revenge-driven force who just wants to kill the princess. His actions are definitely part of the reason that catalysed the war, even though he realises his mistakes later on. There's something very humane about that, unlike King Gaius who doesn't care at all, and the fact he realises redeems him in my mind. Jonas' character is a significant driving force for the plot. His character does a lot to keep the story moving.
There's a lot of action and blood spilled throughout the book. The action scenes were mostly well written with good descriptions. The whole climax was extremely intense and enjoyable. Although considering after the second chapter blood is already spilled, I can't say I'm surprised at the amount of blood spilled. It was fun to read about, unless there was emotional attachment to the characters. Then it wasn't as great to read about.
The world building was pretty incredible. There was a lot of confusion, but amongst of the plot, the world that has been painted is a very complex one. There's so much history, mythology and political trouble introduced, sometimes in word dumps, that makes the world so intriguing. Although there has been a fair amount of world building, there's still a lot to be addressed, and I'm hoping to get more of that in future books!
I thought this was a pretty good start to a series! Even though the first half of the book was slightly slow, there's lots of potential for the story and characters to grow, and I'm excited to read the rest of the series!
Rating: ★★★★
---