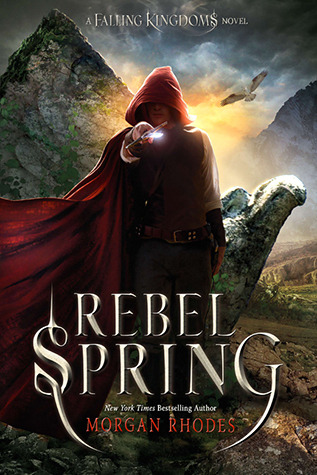 Publisher: Razorbill
Release Date: December 3, 2013
Format: Hardback
ISBN:  9781595145932
Pages: 401
Read in: January 2016
Goodreads | Book Depository
There will be spoilers for the first book in the series, Falling Kingdoms. You have been warned.
Goodreads Summary:
The road to power… is paved with blood and magic.

Cleo is now a prisoner in her own palace, forced to be an ambassador for Mytica as the evil King Gaius lies to her people.
Magnus stands to eventually inherit the new kingdom but is still obsessed with his feelings for his adopted sister, Lucia.
Lucia is haunted by the outcome of the breathtaking display of magic that allowed her father to capture the kingdoms.
Jonas watched at the palace gates a troop of rebels behind him, waiting for him to tell them how he plans to overtake King Gaius.

After a bloody siege, Auranos has been defeated, its young queen orphaned and dethroned. The three kingdoms—Auranos, Limeros, and Paelsia—are now unwillingly united as one country called Mytica. But the allure of ancient, dangerous magic beckons still, and with it the chance to rule not just Mytica, but the whole world over…

At the heart of the fray are four brave young people grappling for that magic and the power it promises. For Cleo, the magic would enable her to reclaim her royal seat. In Jonas's hands, it frees his nation, and in Lucia's, it fulfills the ancient prophecy of her destiny. And if the magic were Magnus's, he would finally prove his worth in the eyes of his cruel and scheming father, King Gaius, who rules Mytica with a punishing hand.

When Gaius begins to build a road into the Forbidden Mountains to physically link all of Mytica, he sparks a long-smoking fire in the hearts of the people that will forever change the face of this land. For Gaius's road is paved with blood, and its construction will have cosmic consequences.
---
Can I just say, I love this cover! I love how the red contrasts with the green backdrop, and it also looks really pretty on my shelf.
The writing was really good. It gets you hooked, and you just have to find out what happens to the characters. There's multiple perspectives going on again, just like the first book which is cool because you get to see what's going on everywhere. However, the cliffhangers at the end of the chapters are frustrating because you have to read from a different perspective to find out what happens next to that particular character sometimes.
I did feel like some characters were added for the sake of having more people in the story, since Morgan Rhodes seems to love killing off people in her books. There's Lysandra, who I thought was an interesting character that didn't really serve a purpose other than a romantic interest for Jonas. There's also Prince Ashur who I'm assuming also plays an important role further on, otherwise he would've been introduced.
Speaking of death, there's still lots of it. You're lulled into a false sense of security until out of nowhere, blood is spilled and it keeps going on. Sometimes I think it crossed the limit about the amount of deaths in this book. Everyone is always talking about how the sacrifices would result in a better world/Mytica, but I honestly don't think the deaths are pushing the plot forward in that sense.
To be honest, I thought the ending was a little anti-climatic. It felt like there was supposed to be more, that it would lead to something grander. But I was left with a sense of disappointment, even though some events did occur that I wanted to (Aron).
I'm also starting to think the romance in this series is ridiculous. Everyone seems to be falling for another person the first time they meet them. I'm a firm believer in doing anything in moderation is good, and it goes for the romance too. I don't believe that something could happen between Magnus and Cleo even though they hate each other so much. Also, the ending between Jonas and Lysandra is also a little strange. I also believe Alexius lusting after Lucia is a little creepy – he's an 'ancient relic' and Lucia is a 16 year old girl. Seems pretty unrealistic to me.
Although I still don't think it's the best fantasy series out there, it's still a good read. I think it's still worthy enough to keep reading, and its still a good read even if you want to find out what happens to the characters.
Rating: ★★★★
---