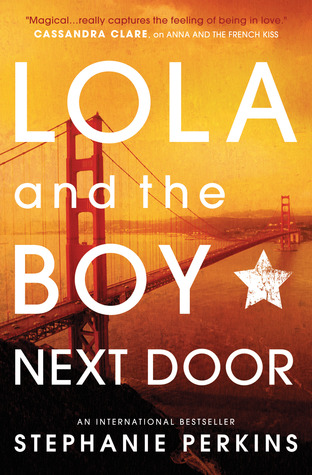 Publisher: Speak
Release Date: July 9, 2013 (first published Sept 29, 2011)
Format: Paperback
ISBN: 9780142422014
Pages: 338
Read in: January 2016
Goodreads | Book Depository
Goodreads Summary:
Lola Nolan is a budding costume designer, and for her, the more outrageous, sparkly, and fun the outfit, the better. And everything is pretty perfect in her life (right down to her hot rocker boyfriend) until the Bell twins, Calliope and Cricket, return to the neighborhood. When Cricket, a gifted inventor, steps out from his twin sister's shadow and back into Lola's life, she must finally reconcile a lifetime of feelings for the boy next door.
---
Again, Stephanie Perkins proves in this book that she is a fantastic writer. Lola and the Boy Next Door is a spin-off/sequel to Anna and the French Kiss. You don't have to read Anna and the French Kiss first, but I would definitely recommend you do, because some plot aspects will make more sense.
First of all, I like how the plot was similar to Anna and the French Kiss, in that it kind of follows the stereotypical contemporary plot, but it definitely didn't feel that way. What achieves this is definitely the uniqueness of the characters. All the characters have their own unique quirks and flaws that just make them ordinary humans.
The main plot follows Lola, an aspiring fashionista who strives to be as bizarre as possible. She's funny, and also a sweet girl, but she also has her problems. She's in a relationship with a guy her parents don't approve of, and if things couldn't get worse, the guy she had a crush on for years moved back to the house next door. I honestly love Lola because of her fashion choices. They're all so unique and bizarre, but they work.
I also really enjoyed reading about Cricket. For his whole life, he's been living in his sister Calliope's shadow, and I can relate to that. He's used to being looked over, and not being special. He does care for his sister very much, but he's also used to not getting much in return. When he goes to college, he finally has a chance to discover his potential, but his relationship with Lola is also an entirely different story. Just reading about his struggles, his flaws is what makes him so real, and Stephanie Perkins does a great job at keeping me interested through Cricket.
Lola's parents are both gay, and I think that's also a really interesting aspect of this book that really adds to the plot. Lola is adopted, but both her dads, Nathan and Andy are both really great parents. I really like how Andy is really into ice skating, and baking. His bakery, City Pie Guy is probably one of the best things that happens in this book, and not because it's the food. Nathan is technically Lola's Uncle, but he's more of the strict one. I really enjoyed reading about Andy and Nathan together because they just work well.
There's a connection to Anna and the French Kiss through the different characters. Anna and St Clair seem a bit more mature in this book, but they're still just as fun as they were in the first book. While I picked up on this connection because I read Anna and the French Kiss first, it's not necessary to read that first before reading Lola.
Overall, I absolutely adore this book! It's definitely become one of my favourite contemporary series I've read in the past few years, and I would recommend it to everyone, especially if you haven't red it yet.
Rating: ★★★★★