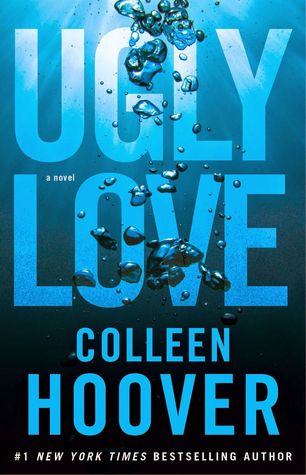 Publisher: Atria Press
Release Date: August 5, 2014
Format: Paperback
ISBN: 9781476753188
Pages: 322
Read in: January 2016
Goodreads | Book Depository
Goodreads Summary
When Tate Collins meets airline pilot Miles Archer, she knows it isn't love at first sight. They wouldn't even go so far as to consider themselves friends. The only thing Tate and Miles have in common is an undeniable mutual attraction. Once their desires are out in the open, they realize they have the perfect set-up. He doesn't want love, she doesn't have time for love, so that just leaves the sex. Their arrangement could be surprisingly seamless, as long as Tate can stick to the only two rules Miles has for her.

Never ask about the past.
Don't expect a future.

They think they can handle it, but realize almost immediately they can't handle it at all.

Hearts get infiltrated.
Promises get broken.
Rules get shattered.
Love gets ugly
---
This is my second Colleen Hoover book that I've read, and I loved it! I'm still quite new to new adult books, but there's just something about the way this book is written that evokes so many emotions.
There are two main story arcs – one is from Tate's point of view, in the present, and one is Miles, in the past. I really did like how this was written from alternating perspectives because it leaves you on cliffhangers at the end of each chapter.
I didn't actually like Miles' character at first. He was getting intimate with Tate, but at the same time, he was holding himself back. However, the more of his backstory you read, the more you understand, and by the end, I was crying for Miles because of the tragedies that had occurred. Some of his actions were kinda unreasonable, but he does try and make up for them later on. I also think it's cute that he's also a pilot, and that all his close friends are.
His chapters are quite poetic. The formatting is quite interesting, and the use of typography accentuates what the author is trying to convey about Miles. I really did enjoy reading from his perspective, because you get to see why he acts certain ways, and why he's so unwilling to commit in a relationship.
Tate wants a more-than-casual relationship with Miles, but that turns out to be quite complicated. Miles has set some rules which makes that nearly impossible, but she ends up falling. Things get ugly, but it's the ugly that makes the ending absolutely beautiful.
He's nowhere, then suddenly, he's everywhere. whether you want him to be or not.
Tate is also a full-time student, and part-time nurse, so her work ethic is also pretty amazing (and something I should consider).
The other character I really admire is Ian. He's Miles' best friend, and he's been through all the ups and downs alongside Miles. He's a great person to have your back, and the fact he put up with Miles for so long proves that fact. He's resilient, he's caring, and the greatest friend you could ever ask for. Although he doesn't have very much page time, from what we can gather from reading he's definitely great friend (and boyfriend) material.
I thought the overall plot was pretty typical, but the way it was executed really made the story unique. Colleen Hoover's writing just has that special quality which makes you feel the character's suffering and joy all at once. It's one of those books where if you start reading, you can't stop. I managed to read this all in one sitting (about 3 hours or so). The suspense and build up to the climax was done really well, because I wasn't left unsatisfied at the end – if anything, it made the ending and resolution even better.
I'm really excited for the movie coming out later this year, and I can't wait to see how this gets translated on screen!
Ugly Love is certainly not the last Colleen Hoover book I'll read! This is a really good place to start for anyone wanting to get into new adult books. There's so much going on, but it's really easy to follow along. It's very enjoyable and also heartwrenchingly beautiful which enhances the reading experience.
Rating: ★★★★.5