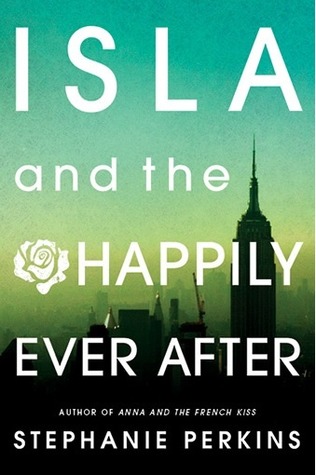 Publisher: Speak
Release Date: August 14, 2014
Format: Paperback
ISBN: 9780142426272
Pages: 339
Read in: January 2016
Goodreads | Book Depository
This is the third book in the Anna and the French Kiss Trilogy and contains mild spoilers for the previous two books. If you don't want to be spoiled in any way, then I suggest you read those first (Anna and the French Kiss and Lola and the Boy Next Door).
Goodreads Summary:
Love ignites in the City That Never Sleeps, but can it last?

Hopeless romantic Isla has had a crush on introspective cartoonist Josh since their first year at the School of America in Paris. And after a chance encounter in Manhattan over the summer, romance might be closer than Isla imagined. But as they begin their senior year back in France, Isla and Josh are forced to confront the challenges every young couple must face, including family drama, uncertainty about their college futures, and the very real possibility of being apart.

Featuring cameos from fan-favorites Anna, Étienne, Lola, and Cricket, this sweet and sexy story of true love—set against the stunning backdrops of New York City, Paris, and Barcelona—is a swoonworthy conclusion to Stephanie Perkins's beloved series.
---
I finally finished the final book of the Anna and the French Kiss Trilogy! I must say they were all equally enjoyable and despite having similar plots, they were all unique in their own ways. Although this can be read in any order, I still recommend you read it in publication order (Anna and the French Kiss, Lola and the Boy Next Door then Isla and the Happily Ever After) because there are some aspects of the plot that are integrated throughout the different books to form its own world.
I really enjoyed this book! All the characters, new and old were pleasant to read about, and the writing itself was brilliant. In saying that, I wasn't a big fan of how fast-paced the beginning and Isla and Josh's relationship was. It was quite rushed but the quick pace made sense in the middle of the book, when problems start to occur. Although their relationship was quite fast-paced, it was still a really good love story with all the beautiful and ugly things in between. It's realistic in the sense that not all relationships are a smooth journey, and that there will always be ups and downs.
I also really enjoyed the diversity of all the characters, including the minor ones. Kurt has high-functioning autism, which means that he can be brutally honest and straightforward, but he's a fascinating character nevertheless. There's also Hattie, Isla's sister who Isla dislikes but she's just trying to be on equal footing as her sister. There's also the return of some of the old characters from the School of America such as Anna, St. Clair and Meredith who graduated the year before.
I really liked Isla's character because she's a senior who isn't sure of what she wants to do in the future. She's quite shy, awkward and introverted, but once you get to know her, she's funny and extremely caring. She's like any other human being who makes mistakes. These aspects of her character make her relatable, and that makes it easier for us as readers be engaged in the story. I think it's cool how she has duel citizenship for America and France, and that she's bilingual.
Josh is portrayed as a moody guy who seemed to be always getting into trouble in Anna and the French Kiss. However, in Isla and the Happily Ever After, we get to learn more about his backstory and his personality. His character undergoes development, and the exploration of his backstory as well has his interactions with Isla enhance this. He's also an extremely talented artist, which is one of his qualities that I admire greatly. His dad is a politician who is running for elections, so we get a glimpse of what it's like to live in the spotlight as the son of a politician.
The plot gets quite dark towards the middle, and it's a sinkhole which the characters have to struggle to get out of. The writing is absolutely brilliant, and evokes so much emotion, especially towards the end. I like that it's set in two of my bucket-list places, Paris and especially New York City.
Overall, this book is brilliant filled with words that keep you turning the pages. I highly suggest you do read this because it's beautiful, despite some of the minor problems I had with the pacing.
Rating: ★★★★.5