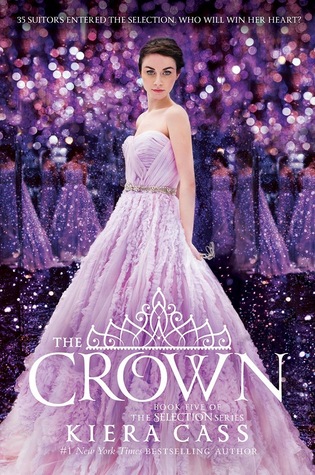 Publisher: HarperCollins
Release Date: May 3, 2016
Format: Paperback
ISBN: 9780062458865
Pages: 288
Read in: May 2016
Goodreads | Book Depository | Booktopia
Goodreads Summary:
Kiera Cass's bestselling Selection series has enchanted readers from the very first page. Now the end of the journey is here, in a wonderfully romantic series finale that will sweep you off your feet.

Twenty years have passed since the events of The One, and America and Maxon's daughter is the first princess to hold a Selection of her own. Princess Eadlyn didn't think she would find a real partner among the Selection's thirty-five suitors, let alone true love. But sometimes the heart has a way of surprising you… and now Eadlyn must make a choice that feels more difficult—and more important—than she ever expected.

The Selection series has sold more than 3 million copies and captured the hearts of fans around the world. This swoon-worthy final installment is the happily ever after they've all been waiting for.
---
My Thoughts:
This is the final, concluding book to The Selection series, so while there won't be spoilers for The Crown, there will be spoilers for the previous books in the series.
Despite my doubts about Eadlyn and The Heir, I found that this, in my opinion was quite a satisfactory ending to The Selection series.
Yes, I know that The One is technically the end of the Selection Series, but for these purposes, lets just call the second half of the series The Selection Part II.
Anyway, The Crown was a really quick, heart-warming book to read. I thought it wrapped up the entire series up pretty well, and it certainly did generate quite a large amount of feels. I think Eadlyn as a character had improved overall as the main protagonist, and I really liked her character arc and her struggles that she went through. There were still moments where I was questioning her decisions that she was making, but overall, Kiera Cass did bring her back around to the likeable side of characters.
Her relationship with all the guys in the book improved drastically as well. I'm not sure if it's just because of her change in mindset, but her attitude towards all of them changes for the better, and that really enhances the overall plot. I'm also pretty satisfied with the endgame, as it makes sense; it was hinted throughout both The Heir and The Crown, and I'm glad that it worked out.
My only issue with this book was that I felt the tension leading up to the climax was a bit sudden, and as a consequence, the ending to the book was quite rushed. There wasn't really much page time to process what was going on, and overall, it was just a little too fast-paced. I also think that there were a few characters who's character arc weren't wrapped up that well, either.
I think what's missing could potentially become a story of its own, in a novella format. Even though this series has been dragged out for quite a bit, I think there's one particular scene I really need, and that's what happens after the epilogue.
Overall, I'm pretty satisfied with how The Crown turned out! It was really quite enjoyable and a good, solid conclusion to The Selection Part II, with some good reality TV plot in novel form.
Rating: ★★★★