Publisher: Hot Key Books
Release Date: June 22, 2016 (First released 2015)
Format: Paperback
ISBN: 9781471405174
Pages: 496
Read in: June 2016
Goodreads | Book Depository | Booktopia
Goodreads Summary:
A wealthy family. A deadly secret. A young woman with more to lose than she knows.

Josephine Montfort is from one of New York's oldest, most respected, and wealthiest families. Like most well-off girls of the Gilded Age, her future looks set – after a finishing school education, she will be favourably married off to a handsome gentleman, after which she'll want for nothing. But Jo has other dreams and desires that make her long for a very different kind of future. She wants a more meaningful and exciting life: she wants to be an investigative journalist like her heroine Nellie Bly.

But when Jo's father is found dead in his study after an alleged accident, her life becomes far more exciting than even Jo would wish. Unable to accept that her father could have been so careless, she begins to investigate his death with the help of a young reporter, Eddie Gallagher. It quickly becomes clear he was murdered, and in their race against time to discover the culprit and his motive, Jo and Eddie find themselves not only battling dark characters on the violent and gritty streets of New York, but also their growing feelings for each other.
---
I was sent a copy of this book by the publisher. All thoughts and opinions are mine.
Whatever I was expecting from this book, it was not this.
These Shallow Graves is a historical thriller that's set in Victorian New York. To be honest, the first 20 pages or so wasn't very exciting, but there was a certain point where I was hooked onto the plot [and the book]. I ended up flying through this in 2 sittings because it was so addictive. If it weren't for the fact it was 2am when I had to force myself to stop reading, I would've read it in one go.
While the main plot of this book is a mystery, I think it was a bit predictable in the end. It's a little reminiscent of Code Name Verity, which is also another YA historical mystery but set in WWII instead. However, despite the fact it was predictable, I like the way the plot was laid out and still keeps you guessing. It keeps you on your feet and turning the pages late into the night.
"The truth can be a hard thing, Jo. It's often best left hidden," Phillip said quietly.
What really drives the plot forward in my opinion, is the characters and their development. These were all characters I wanted to learn more about – I wanted to know more about their backstories, their agendas. There's quite a large cast of characters who were all very diverse, from different social backgrounds. While there is romance in this story, it's definitely the slow-burn kind, and it doesn't detract from the overall plot of the book. Although there is a love triangle, I think it's more because of the setting in the Victorian era where social norms dictated that women were to marry for money and status, not love.
Fay is from a wealthy, elite family who has been sheltered all her life. Following the death of her father, she endeavours to discover why he was killed, and this leads to a chain of questions which surrounds this mystery that she has to solve. While trying to find answers, she makes discoveries about her, her family and her social class. She realises that she's just a puppet on a string, ready to be used to maintain their family's relationship. However, she refuses to follow these social norms, and I really admire her for doing so, especially in this context.
The first thing I thought of when we were introduced to Eddie was Eddie Redmayne and how he dressed in movie version of Les Mis, and that's how I envisioned him for the rest of the book. Seriously.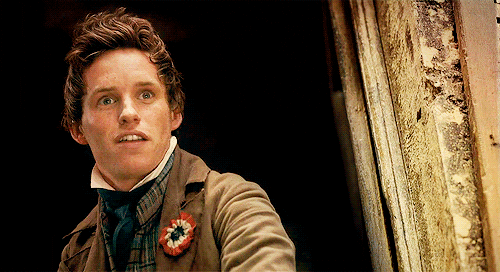 He's my favourite character, not only because he's hot, but because of his character and personality. He's worked extremely hard to get to where he is now, and hes also looks out for the people he really cares about. I think he's a really well rounded  character who is also very admirable for his personal qualities.
One of my favourite parts was actually the epilogue, where everything just comes full circle, and is really satisfying. It's the beginning of the end, and I thought it was written very nicely. This is probably also due to all the highs and lows that the book draws out – all the hardship, heartbreaks  and complex moments which lead to this resolution.
I have nothing but praise for this book! This definitely has something for everyone – whether it be action, mystery, romance and social equality set on the backdrop of Victorian New York.
Rating: ★★★★.5