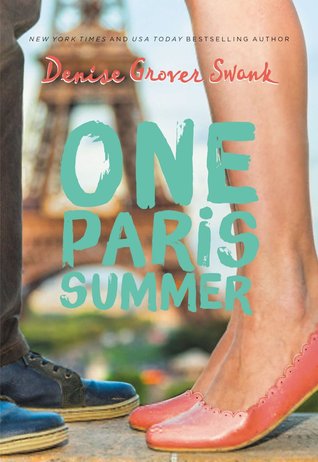 Publisher: Blink
Release Date: June 7, 2016
Format: Paperback
ISBN: 9780310755166
Pages: 272
Read in: June 2016

Goodreads | Book Depository | Booktopia
Goodreads Summary:
Most teens dream of visiting the City of Lights, but it feels more like a nightmare for Sophie Brooks. She and her brother are sent to Paris to spend the summer with their father, who left home a year ago without any explanation. As if his sudden abandonment weren't betrayal enough, he's about to remarry, and they're expected to play nice with his soon-to-be wife and stepdaughter. The stepdaughter, Camille, agrees to show them around the city, but she makes it clear that she will do everything in her power to make Sophie miserable.

Sophie could deal with all the pain and humiliation if only she could practice piano. Her dream is to become a pianist, and she was supposed to spend the summer preparing for a scholarship competition. Even though her father moved to Paris to pursue his own dream, he clearly doesn't support hers. His promise to provide her with a piano goes unfulfilled.

Still, no one is immune to Paris's charm. After a few encounters with a gorgeous French boy, Sophie finds herself warming to the city, particularly when she discovers that he can help her practice piano. There's just one hitch—he's a friend of Camille's, and Camille hates Sophie. While the summer Sophie dreaded promises to become best summer of her life, one person could ruin it all.
---
I remember seeing this book pop up on my Goodreads feed, and as soon as I read the synopsis, I had to read it. It was two words that really drew me to this book: Paris and piano. As someone who is a massive music nerd and loves Paris, this was pretty much the ideal contemporary book.
I thought the beginnings of the story wasn't very enjoyable. All the characters are whingers, particularly the main protagonist, Sophie, as well as some of the other immediate characters around her, especially at the beginning.However, about halfway through, the characters began to settle a bit more, and it did truly become an enjoyable story.
My initial reaction to the opening scenes was that the characters were all so whiny. Our main protagonist, Sophie, is on a plane with her brother Eric to visit their father who now lives in Paris.
"I cant believe Mom trusted you enough to send us alone to Paris together."

"She couldn't exactly ship us in a box from Charleston, could she?"
While this is typical sarcasm used in the language of sibling rivalry, I still thought the characters weren't very engaging – that all there was to them was that they liked to complain and that was it. Despite this I kept reading because I loved the plot when I read the synopsis, and I think it was worth it!
My favourite aspect of this book was definitely the plot. Although t was mostly predictable teenage drama, and was quite static in the first third of the book, it was always moving somewhere, leaving hints for future events in the the book. I think this aspect of an enjoyable plot can be attributed to the character growth and development that occurs.
Although Sophie is rather unlikable at the start, she did become more mature as the story went on, and I began to feel more sympathetic towards her situation. She's in a foreign country with no knowledge of the language  and geography; she doesn't even have a phone. She does not want to be in Paris to begin with; she'd rather be at home in Charleston with her friends and preparing for her piano audition. Her stubbornness, although irritating at first, becomes one of her main character strengths. She has to put up with Camille, her stepsister whom she has just met yet absolutely hates her, and on top of that, she is forced to share a room with her for the duration of Sophie's stay. As the story develops, she really does grow, and becomes more mature. She's also a very hard worker, as demonstrated by her dedication to piano practise; the hours she practises is something I personally relate to very much as a musician who is preparing for a major performance.
Of course she meets a hot French guy who just happens to be off-limits. Mattieu is one of Camille's oldest friends, but keeps his distance after Sophie's first encounter with him. After they start getting acquainted, the amount of page time increases, making their relationship the focal point of the story. While it's nice to see that their relationship is developing, sometimes I felt like the side characters were neglected for a long time before making a brief appearance much later in the book. Despite this, I really like Mattieu – he's my favourite character in this novel. He's the type of guy who you'd want as a boyfriend; he's smart, caring and he also has a Steinway Piano in his family. If I'm to be honest, it seems almost too idealistic.
I will point out now that there is a love triangle in this book. It could almost be a love rectangle, but it's too complicated to explain without spoiling anything.
In addition to romantic relationships, the book also does a pretty good job of dealing with family dynamics and relationships. Sophie's family is messed up since her dad moved to Paris to pursue his restoration career. When she arrives in Paris, she has to figure out whether she has forgiven her dad and her trust towards him. It doesn't help that his new family give conflicting impressions. Eva, her dad's fiancee is very warm and welcoming, and embraces Sophie and Eric with open arms as if they were her own children. Camille on the other hand is on the complete opposite side of the spectrum; she's rude, disrespectful and seemingly goes out of her way to make Sophie's life miserable. The conflict continues throughout the book, creating even more tension and drama. Although I don't think it's the most realistic dynamic written in YA literature, it's still drives the plot forward and is quite fun to read (but can also be equally frustrating).
Another small thing about this book that I really enjoyed was the few French phrases integrated throughout the book. I was pleasantly surprised that I understood most of what they were saying in the original French text, although there are English translations of the French phrases that are said by the different characters if you have a limited knowledge on the language. I just like how this small detail makes the story more authentic and real.
Despite all these wonderful things about the book, I think some of the writing was a little cheesy. There'd be a extremely cheesy line and I'd just cringe wile reading because it just sounded off. towards the end when the plot was reaching its climax, it wasn't so bad, especially as the plot tended to focus on other things, but that was definitely some thing that I noticed that put me off a little in addition to how the characters weren't so likeable in the beginning.
While I had a few problems with the book that I thought could be improved, I really enjoyed this book. It's a quick, cute read that I managed to read in one sitting n which I stayed up to 5am to finish this book. The themes and issues explored in the book were all very relevant to our everyday lives, and for the most part, the plot was well set up. I'd recommend this book if you're looking for a fun contemporary read that is set outside of the US.
Rating: ★★★★