Hey guys! Top Ten Tuesday is a weekly bookish meme hosted by the folks over at The Broke and the Bookish. This week's topic is ten books I've recently added to my TBR.
With books I want to read, usually I just add them to my goodreads, since it's the easiest way to keep track of all of them. It's really convenient to just have the book info at your fingertips when you're trying to find a book to read that's on your TBR. So based off of my goodreads list, here are the ten most recent books I've added to my TBR that are currently released):
---
The Red Necklace by Sally Gardner
This is a book I saw when I went shopping the other day, and the thing that really caught my eye was the cover. Fortunately, the plot seems pretty interesting and I love the fact it's set in the French Revolution. Hopefully, the book itself is pretty good too.
Lilac Girls by Martha Hall Kelly
WWII fiction is always something that will catch my attention, so when I saw this, I didn't even finish reading the summary before adding it to my TBR. It also has a really good rating on goodreads, so I'll trust that fact that this book is good.
Wintersong by S. Jae-Jones
I actually don't remember how I stumbled across this book, but the plot seems pretty interesting. The mention of music is always a bonus, but the fantasy world that this is set in is really fascinating.
A Gentleman in Moscow by Amor Towles
I believe I stumbled across this book when I was going through the Goodreads Choice Awards lists, and I was intrigued because I honestly haven't read much fiction that is set in between the two world wars. I did a topic on Stalinist Russia in history last year, so I know a bit about context, and I'm assuming it must be good, or else it wouldn't have been nominated.
Everyone We've Been by Sarah Everett
This is a contemporary that has a really pretty cover, but I believe it came up on my goodreads feed. It sounds a little bit like Never Never, so I'm excited to see how this book turns out.
The Sea of Tranquility by Katja Millay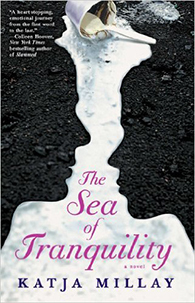 Whenever there's a character who happens to be a musician, I am pretty much almost always guaranteed to add it to my TBR. This was totally the case with this book, although I did really enjoy the sounds of the summary.
Being Sloane Jacobs by Lauren Morrill
Another contemporary that I discovered on goodreads, this just seems like a really cute read. It'd be something I would read when I'm in a bit of a reading slump or something like that.
Beautiful Oblivion by Jamie McGuire
I think I was looking into other NA contemporary romance (other than Colleen Hoover) when I came across this. I wanted something that was in the same genre as CoHo, but I wanted to expand my horizons a bit so this sounded pretty good to me.
All Quiet On The Western Front by Enrich Maria Remarque
I was actually recommended this by my history teacher a while ago now, but it was only when I started looking for WWI fiction that I remembered about this book. I'm not sure what it's all about, except the fact it's set on the western front, but to be honest that's enough for me to add to my TBR.
The Violin of Auschwitz by Maria Angels Anglada
I love WWII fiction, and music, and naturally both of these combined make the ideal historical fiction story. I actually don't want to know anymore about this story if I am to read it because I still stand by the fact the best way to go into a story is to go in blind.
---
So there's some of the most recent books I've added to my TBR! This is merely a portion of the books I've added recently (of course), but I hope that there's something that will intrigue everyone reading this.
What are some of the books that made it on your list? I'd love to know so I can add it onto my extensively growing list of books!