Hey guys! Top Ten Tuesday is a weekly bookish meme that is hosted by the folks over at The Broke and the Bookish. This week's topic is a repeat of one from last year – authors that I've only discovered or started reading this year. There have been quite a few authors that have been new to me this year, so without further ado, here are some of the authors that are new to me:
---
Huntley Fitzpatrick
I've heard great things about Huntley Fitzpatrick in the past, but it wasn't recently until I was finally tempted (partly by the cute spines) to actually read her books. I've only read My Life Next Door so far, but I really enjoyed it because it was really sweet.
David Levithan
I actually only started reading his books because I went to an event that both Rainbow Rowell and David Levithan were there. I picked up Every Day to get signed, but then when I started reading on the train home, I was pleasantly surprised by how good his writing was, and how compelling his stories are.
Emery Lord
I can't believe I only just discovered Emery Lord this year – her writing is fantastic and there's just something about her stories that is really heartwarming. I can't find the words to explain it, but there's just something about her books (at least, the ones I've read) that leaves you feeling satisfied after reading it.
Jennifer Donnelly
I've only read These Shallow Graves, but it was a really well-written historical mystery book that I was not expecting at all. It has a really good plotline that takes unexpected twists and turns, set against the backdrop of Victorian New York.
Anthony Doerr
This year, I finally read All The Light We Cannot See, and it was absolutely amazing. His writing is so addictive, and the story he wrote was so historically accurate, yet somehow he manages to interweave an amazing story within the premises of the historical context.
Colleen Hoover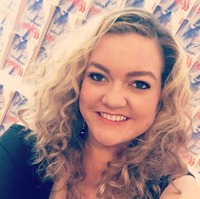 Technically, since I read my first Colleen Hoover book after January 1, this totally counts as being a new author I've read in 2016. It feels so much longer than almost a year that I first started reading Colleen Hoover, and I honestly can't believe that I hadn't read her books before this year. They're all so freaking good – okay maybe the writing isn't the best, but her stories are all wonderfully dramatic and very easy to read. I love reading her books when I'm in the middle of a reading slump because it
Jenny Han
I didn't read To All The Boys I've Loved Before until this year, but my favourite thing about her books is the Asian representation in YA literature. Besides this, her writing is really easy to get through, and also has some really great characters who are all very relatable.
Morgan Rhodes
I read the first two books of the Falling Kingdoms series at the beginning of the year, and while they aren't my favourite, they're still pretty good books. I've heard Gathering Darkness is much better than the first two books in the series, so it'll be interesting to see how that goes.
Anyta Sunday
I read Rock quite recently, and style wise, it's similar to Colleen Hoover in the fact that she write more NA romance. However, the nuances of her writing are much darker and more intense.
Erin Morgenstern
I just finished The Night Circus a few days ago, and despite the slow start, it's really well written. There's a very intricate plotline that is skillfully woven in the world of illusions that Morgenstern has created. I love the subtle humour that's used throughout the book – there are moments where a completely serious scene is enlightened by sarcastic comments from other characters.
---
So that's my list of authors who I read for the first time this year! What are some of the authors that you read for the first time this year?