Publisher: Bloomsbury Publishing
Release Date: April 5, 2016
Format: Paperback
ISBN: 9781408870082
Pages: 344
Read in: January 2017
Goodreads | Book Depository | Booktopia
Goodreads Summary:
We are seventeen and shattered and still dancing. We have messy, throbbing hearts, and we are stronger than anyone could ever know…

Jonah never thought a girl like Vivi would come along.

Vivi didn't know Jonah would light up her world.

Neither of them expected a summer like this…a summer that would rewrite their futures.

In an unflinching story about new love, old wounds, and forces beyond our control, two teens find that when you collide with the right person at just the right time, it will change you forever.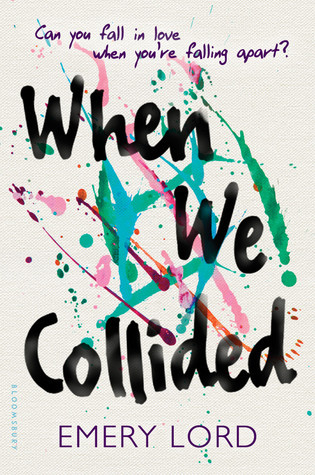 ---
I have such mad respect for Emery Lord right now, mostly because of her stories and the way she manages to cram such beautiful prose about so many different things into the space of about 300 pages.
When We Collided is a fictional "love story that's set in the same world as mine", as Lord says so in her author's note. However, it's so much more than that – it's a brilliant tale that weaves so much depth and awareness between every single line. I appreciated the love story, all of the characters, and I admire the ending that was written. I enjoyed the fast pace of the words, resulting in a page-flipping read that never seemed to end until you reach the climax and you realise that this world is actually reality for so many people around the world, who are dealing with demons every single day.
Vivi as a character was extremely interesting to me, because she's a crazy girl, in a good way. She references that she's had battles with her demons, and that she's a fighter. She references that she has depression and the fact that there's so much more to that, but I thought it was just another typical contemporary that had a YA female lead with a mental illness until there was only about 100 pages left. I like Vivi's little quirks – she's an artist, like myself, and I relate to that side of her very much. My favourite thing about Vivi is how three-dimensional she is as a character – there are so many different titles she could be given, but they would all fall into peculiar categories.
"Ships are safe in the harbour, but that's not what ships are for."
Jonah on the other hand, is dealing with different issues of his own. He has his hands full with looking after his family, and juggling being a seventeen-year-old kid at the same time. Jonah is very closed off from the world around him when he first meets Vivi, but when Vivi starts making herself at home and invites herself into Jonah's somewhat messed up life, his world starts to change drastically, perhaps for the better. I empathise with him, as someone who's a little lost and isn't sure what they're looking for.
"[Jonah's father] said the measure of the man is in those decisions. Do you keep yourself and your family safe in the harbour, always? Or do you move forward and brave the storms?"
All the other characters are all so wonderful too – the way they're written and portrayed, like Vivi's mum being very concerned about her mental health but maybe not dealing with her in the best way, or General Hayashi asking Vivi who he should arrest when he sees her feeling down but tells her to suck it up in an understanding way when she tells her it's her biological father that's upsetting her.
Perhaps the best thing about this book is the fact it deals with the issues of mental health – specifically depression and bipolar disorder – in a normalised way. It doesn't place all these issues on a pedestal which is revered in a negative way. It's written in such a way that it's an integral part of the story and all of the characters and their reasons and motives behind every action and every word they speak. It's a difficult feat to pull, and for that reason I have much respect for the author and the entire story behind this novel.
I haven't really talked much about the plot, but for me, the whole story was more of a character-driven book (basically a grand emotional arc) that was carried out day by day according to the book's timeline. I did like how it kept pushing the pace forwards until the very end, where the pace slowed quite dramatically and things were [finally] explained, showcasing Lord's mastery for writing.
To me, When We Collided is a much needed tribute to the mental health issues that demonstrates how every day people, like ourselves, can be affected by mental illness even if we don't know it. One thing stressed in this book is the importance of communication and openness, because it provides a path bridging the darkness and the light. There's an emotional depth to the characters and the story that I really loved and appreciated a lot.
Rating: ★★★★.5