While this review does not contain spoilers, there may be minor spoilers concerning the earlier books of this series, so if you haven't read those yet, I highly recommend you read those before coming back to read this review. 
Publisher: Bloomsbury
Release Date: May 2, 2017
Format: Hardback
ISBN: 9781619634480
Pages: 705
Read in: May 2017
Goodreads | Book Depository | Booktopia
Goodreads Summary:
A nightmare, I'd told Tamlin. I was the nightmare.

Feyre has returned to the Spring Court, determined to gather information on Tamlin's maneuverings and the invading king threatening to bring Prythian to its knees. But to do so she must play a deadly game of deceit—and one slip may spell doom not only for Feyre, but for her world as well. As war bears down upon them all, Feyre must decide who to trust amongst the dazzling and lethal High Lords—and hunt for allies in unexpected places.
---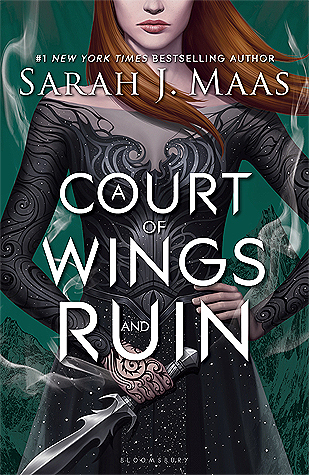 Honestly, I enjoyed this book so much I don't know where to start. I'm really sad now that Feyre and Rhys' story has come to an end, but it was a really wonderful and magical story and I'm pretty satisfied by how it all played out. It was quite an intense roller coaster, both physically and emotionally (physically, because my heart was not okay), but it was definitely worth the wait.
One of my favourite things about this book was some of the character development, especially in Feyre, Rhys and Nesta's case. I like how all the characters learn about the importance of trusting and leaning on others in hard times, and how that bond is a strength and should not be ignored. We get to see all the vulnerable moments the characters have, and also the badass ones – a great juxtaposition which shows that these characters are also susceptible to things we deal with in life. I also loved how fun many of the new characters we were introduced to were, especially being able to learn more about the different high lords, and seeing characters we've heard about only through anecdotes. Personally, I did think I was overwhelmed with character names and keeping track of who was who, but once I got my head around that, it was fine.
In addition to all the character development, the diversity of all the characters revealed in this book was fantastic. I loved it all so freaking much – there are characters who struggle with mental illnesses, identity issues and also characters which are gay, lesbian and bisexual. I think diversity is an important theme to have in YA fantasy, especially in this day and age where it's becoming more widely accepting and it's completely different to fantasy books aimed at a similar audience written even just ten years ago.
There were many different elements of the writing which I loved too – the subtle hints/foreshadowing, both the ones might have picked up on and missed, and the humour used throughout, even in the really tense scenes where a character just throws in a random comment that made me laugh. There was so much goodness in the writing itself – the language and written expression which for the most part flowed really well, allowing me to appreciate the goodness that is Sarah J. Maas' prose.
While I did really enjoy the story, I thought sometimes the plot got a bit convoluted and a little all over the place. Despite the easy language used throughout the book, there were times where I had to go back and re-read some scenes to clarify what had just happened. I've never really had to do that before with Sarah's books, but it was just confusing how some of the plot didn't really flow that well. It was as if the author was trying a bit too much to set up for the next book, because there were also many plot elements that were just not wrapped up and clarified in the end. In that sense, while the story about Feyre and Rhys may be over, it didn't really feel very complete. I know that there are more books that are to come in this world, but I think it would've been nice to have a bit more conclusive endings for some of the little things that were raised in this book.
Overall, this didn't really impact that much on my experience of reading (and internally screaming) ACOWAR. I enjoyed every minute of it, and while I'm sad that this part of the stories set in Prythian are over, I can't wait to see what Maas has in store for us next.
Rating: ★★★★