Publisher: G.P. Putnam's Sons Books for Young Readers
Release Date: May 12, 2015
Format: Paperback
ISBN: 9780399176654
Pages: 395
Read in: December 2016
Goodreads | Book Depository | Booktopia
Goodreads Summary:
One Life to One Dawn.

In a land ruled by a murderous boy-king, each dawn brings heartache to a new family. Khalid, the eighteen-year-old Caliph of Khorasan, is a monster. Each night he takes a new bride only to have a silk cord wrapped around her throat come morning. When sixteen-year-old Shahrzad's dearest friend falls victim to Khalid, Shahrzad vows vengeance and volunteers to be his next bride. Shahrzad is determined not only to stay alive, but to end the caliph's reign of terror once and for all.

Night after night, Shahrzad beguiles Khalid, weaving stories that enchant, ensuring her survival, though she knows each dawn could be her last. But something she never expected begins to happen: Khalid is nothing like what she'd imagined him to be. This monster is a boy with a tormented heart. Incredibly, Shahrzad finds herself falling in love. How is this possible? It's an unforgivable betrayal. Still, Shahrzad has come to understand all is not as it seems in this palace of marble and stone. She resolves to uncover whatever secrets lurk and, despite her love, be ready to take Khalid's life as retribution for the many lives he's stolen. Can their love survive this world of stories and secrets?

Inspired by A Thousand and One Nights, The Wrath and the Dawn is a sumptuous and enthralling read from beginning to end.
---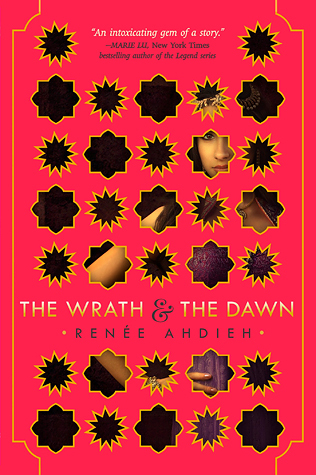 I loved it. Struggled for a little bit but then once I got into it, I couldn't stop, simply because it was so damn good. (Also, I was unable to sleep but that's an entirely different matter).
The writing was brilliant – it took me a while to get settled in but after about 100 pages I was fully immersed. I think the slightly slow opening contributed to this but otherwise the rest of the book was set at a really good pace. It was really well-written, and there weren't really many awkward phrases or anything of the likes that made me want to cringe.
World building was also top notch – I had a little trouble following names and the formalities and the way the characters addressed each other with suffixes, but once I got used to that it was fine. I also discovered there was a glossary of terms at the back of the book, which would've also been extremely useful had I discovered it earlier. I like how there's descriptions sprinkled throughout, so you don't realise you're learning more about the world as the characters go through their day-to-day events.
Worldbuilding aside, I love the diversity of the cast of characters – Asian representation, fierce female protagonists, interesting male protagonists and also dealing with mental health issues, all within a fantasy story/retelling. I don't know how Ahdieh managed to pack so much into the one book, and still manage to do it so well, but it somehow works and I have a lot of respect for this book. There are the characters I grew to dislike such as Tariq, and I'm not sure if uniting under the white falcon banner is the best way to save Shazi, although only really Tariq and Shazi's father are doing it to get her back
Shazi is such a fierce, silvertongued girl, and she's not afraid to fight to get what she wants. I love how snarky she is and how she uses that to her advantage. Although she her temper rises quickly, I do like seeing the softer side of her, like when she's storytelling or whenever she's around Khalid. I also think that her perception and judgement of Khalid is a valid one, especially as it changes over time, because it means she fully embraces him as he is and that's just beautiful.
I think the only thing I would've liked to see was more of Shahrzad's family, in particular Irsa. Maybe my wish will be granted in the second book so I guess we'll wait and see.
As a retelling of The Thousand and One Knights/Arabian Nights, I'm not entirely sure how it is, but it's so well written it's nice if you don't know the tale and go into this blind since that way there'll be more surprises. Despite it being a retelling, I think there was a good mix of plot, character development and worldbuilding that it doesn't really feel like a retelling of another story.
Overall, I really enjoyed how well-written this story was, and how every aspect of the book really came together and was just woven into something that was enjoyable yet very interesting to read.
Rating: ★★★★★